fdgfdgf
As the popular saying goes "If you don't like the weather in Colorado, wait five minutes and it will change". We know this to be true at Mr. Big Events, that's why we have a wide variety of tents! Tents are a great way to ensure your outdoor event is a success. When planning your outdoor party, you should greatly consider having at least a covered area nearby. The wonderful thing about using a tent for your party is that they are so versatile! You can have them in whatever size you need to suit your guests.
One way to dress up your tent a bit is to add walls. There are tents of all sizes that can be just partially enclosed. This is a great way to block the wind from disrupting your party. If you don't want a plain white wall, you can go with Cathedral Walls, this is a very pretty elegant look for fancy parties. Uplighting is also a great option to think about when using Cathedral walls, it looks incredible from the outside looking in!
It is a must to have lighting in your tents at night. We love the effect of globe lighting stung along the top to illuminate the party with a romantic ambiance. It's like being under a canopy of starts, without taking your chance against the weather! At events where there will be dancing, it's so easy to place a beautiful oak dance floor next to your covering to encourage guests to enjoy their night and all your event has to offer.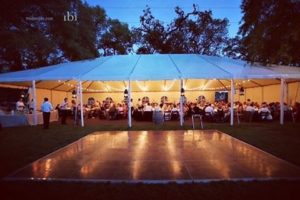 This style of a high peak tent adds a whimsical, almost carnival feel with its points. Its magnificence is enhanced with a lighted walkway right up to the entrance. Under the big top you can see more lighting and people gathered around tables enjoying their night out in the open.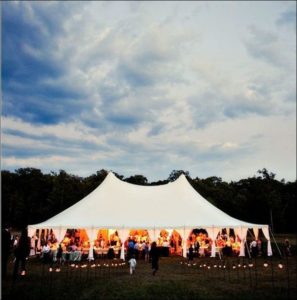 You can also create a super playful feel by placing two tents parallel to each other, separated by a dance floor. The whole area is lit with globe lights This is so fun and a great way to create the feel of a room enclosure.
Perhaps the best thing about choosing to have a tent at your event is in how they are not limited to four boring walls. This tent has walls made of drape. It really looks beautiful to be able to see just a sliver or the dinner party going on under this small tent. In combination with the globe lights in the foreground this must be an enchanting sight to see approaching this reception.
This creative tent look is incredible! Featuring walls made of string lights, the sheer drapes dressing up the otherwise plain tent poles. If it's cool outside, you can always add heaters under your canopy to make sure your guests stay warm outdoors.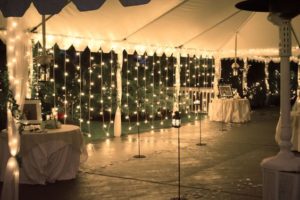 A magical way to create a canopy effect is with no tent at all. If the skies are clear and you're going to take your chances against the weather, this string light ceiling might be a great option. It appears as if the tiny lights are floating in air. How fantastic would it be to dine under something so elegant! No matter your favorite tent style, one thing is for sure- it will be a night you will never forget!